Compute nodes in our cluster
Our cluster currently encompasses more than 400 multi-core compute nodes. We allocate one "job slot" per core.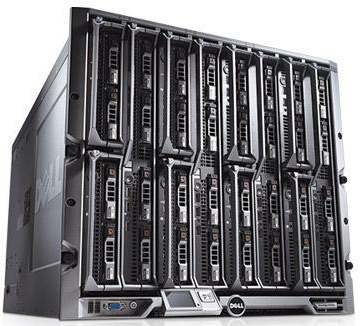 At the UM site we use a large number of compute blades from Dell. We have a mixture of M600, M610, and M620 blades in 8 total M1000e chassis. The latest M620 blades have dual 8-core CPUS providing 32 Hyperthread cores for jobs and 10Gbps connectivity.


The MSU site is comprised of Dell 1U compute nodes, and at UM we also use many in this form factor. Which type is chosen depends on available power and space in our racks as well as what allows us to get the most CPU capacity for our investment. The most recent installations at UM and MSU have been R630 1U nodes. These nodes have dual 12-core CPUS providing 48 Hyperthread cores for jobs and integrated 10Gbps NICs.

At the UM site we have one special case, the Sun X4600. It predates the Oracle acquisition of Sun and has been happily providing 16 AMD Opteron cores for many years. We're glad to give it a good home to live out its final days carrying on a proud brand.